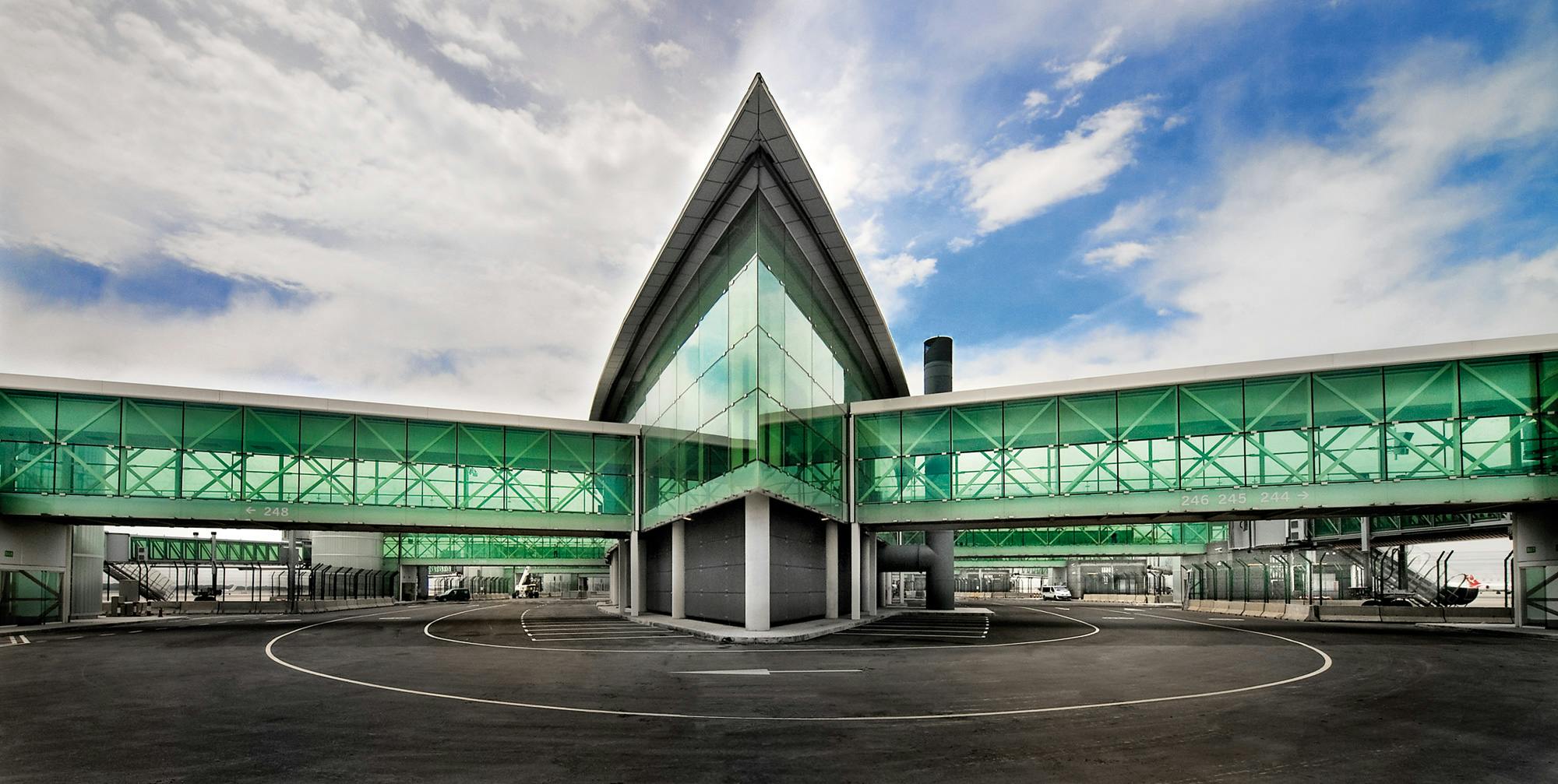 SILESTONE®: TERMINAL 1, PRAT AIRPORT, BARCELONA
Unlike the existing terminals, this new building has light as one of its hallmarks. The use of daylight through walls of serigraphed glass allows its public spaces to be lit solely with a soft light, helping to save energy.
This terminal was opened on 17 June, 2009, after five years of hard work. It currently deals with 90 operations per hour and receives 55 million passengers a year, making it the second busiest airport in the country and in a position to absorb a large number of travellers.
TECHNICAL SPECIFICATIONS
PROJECT:
Flooring of the T1 indoor shopping area at El Prat airport, Barcelona
LOCATION:
Terminal 1 at El Prat airport
THE TEAM:
Ricardo Bofill Taller de Arquitectura (project designer)
Ana Contreras and Peter Hodgkinson (architects) Mármoles y Granitos Tijeras S.A. (installation company)

AENA

MATERIALS:
Silestone®.
COLOUR:
Rojo Eros, customised by the project designer
THICKNESS:
2 cm
DIMENSIONS:
Slabs (1m x 1m)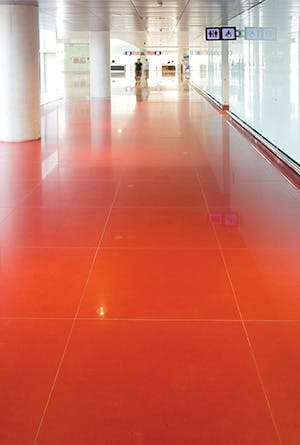 A BENCHMARK IN AIRPORT TERMINALS
Terminal 1 at El Prat airport has a surface area of 544,066 m2 and has a 600,000 m2 aircraft parking apron.
Of this terminal's four levels, level 1 is the waiting area for travellers' companions as well as the link to the outside public car park, the intermodal lobby, and the rest of the building. In addition, it has a large shopping and restaurant area called Sky Centre, open to the general public.
SILESTONE®, PERFECT FOR THE MOST SINGULAR PLACES
Large format Silestone® was used for this project for the flooring of the shopping area, resulting in a unique and continuous stretch of red, highlighting the columned space. Its polished finish reflects the daylight from the courtyard skylight and also softens the various artificial lights of the shops that are found along the way.
4.000 m2 of Silestone®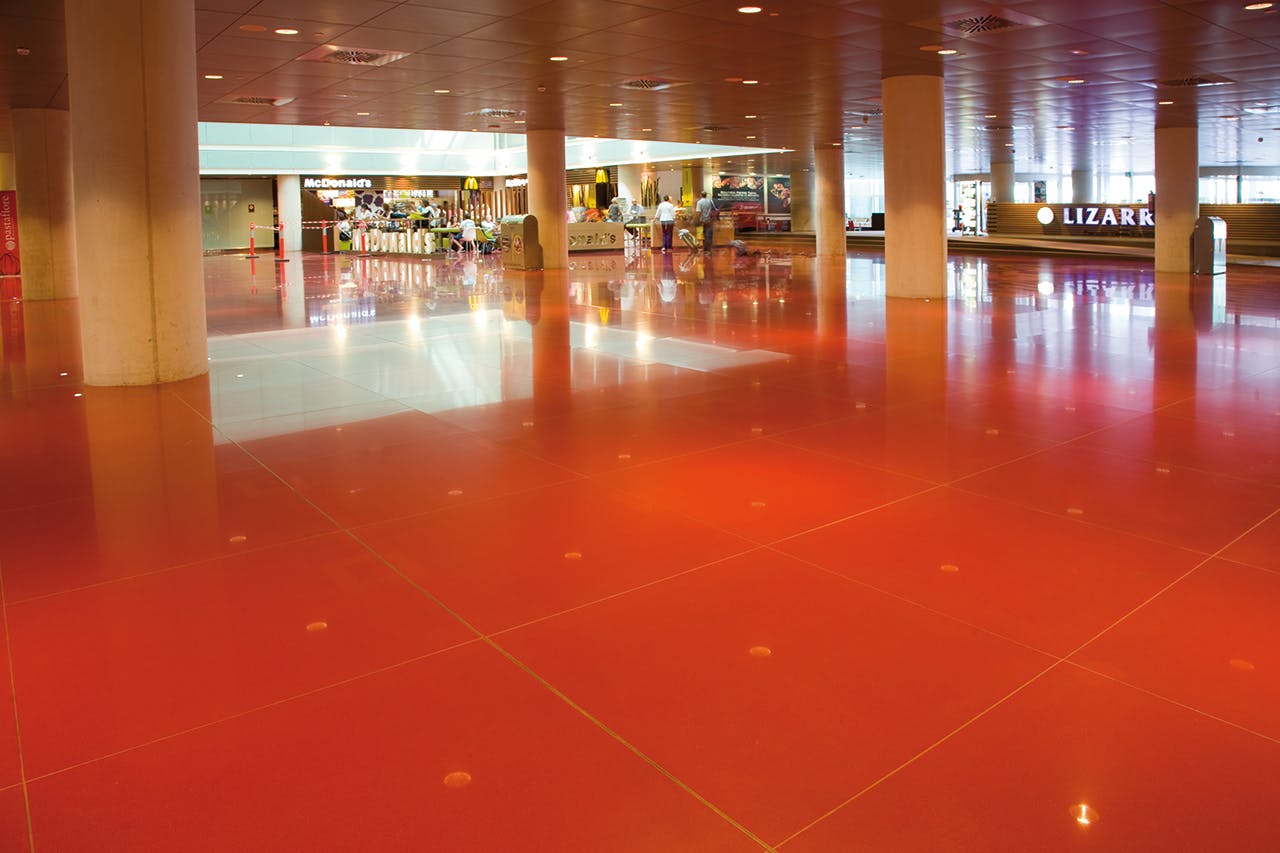 Much more than an airport
The T1 at El Prat is much more than an airport as its design brings together maximum functionality, the incorporation of modern technologies, respect for the environment, and the use of unique, top-quality products such as Silestone®. It is, without a doubt, a project that combines an international and multicultural character with the brightness and the warm atmosphere afforded by Mediterranean architecture.
Of note are the barely visible joints between the slabs resulting in a smooth and continuous visual space. The use of a sturdy material was a prerequisite for this terminal, a place where over 6,000 people work, that every year receives large numbers of passengers, and where more than 50 airlines operate. Silestone®, which is available in over 60 colours and made from 93% natural quartz, fulfilled this requirement.