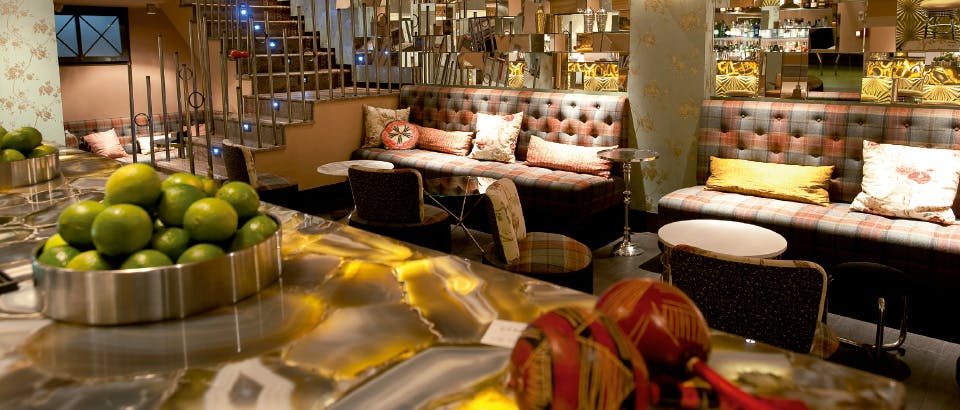 PREXURY: LE CABRERA, COCKTAILS
&

GASTROBAR, MADRID
Le Cabrera, a restaurant and cocktail bar that opened in January 2010, is located in the heart of Madrid and is owned by the famous Catalan chef Sergi Arola and the young Argentine barman Diego Cabrera. The former is known for his professional career and his two Michelin stars. The latter has revolutionised Madrid's cocktail scene.
On the first floor of this new bar and eatery, tapas, dishes to share, and haute cuisine appetisers are on offer. Downstairs, the larger space is devoted to the creation of cocktails.
The person responsible for the harmony that exists between these two spaces is the architect and interior designer Luis Galliussi. He has managed to imbue the place with an original, modern style by using retro and contemporary décor.
These and other aspects such as design, quality and presentation are what best defines Le Cabrera as it does Cosentino, which is why Prexury – one of the Group's collections – was chosen for the cladding of the bars.
TECHNICAL SPECIFICATIONS
PROJECT:
Cladding for the bars at Le Cabrera, Cocktails & Gastrobar
LOCATION:
Bábara de Braganza 2, Madrid
THE TEAM:
Luis Galliussi (architect and interior designer)
Mármoles y granitos Luismar S.A. (installation company)
MATERIALS:
Prexury
COLOUR:
Wild Agate
THICKNESS:
3 cm
DIMENSIONS:
1st bar (L-shaped): two levels 25 and 30 cm wide with 15 and 18 cm mitred aprons respectively, in two pieces 5.84 and 2.29 long.
2nd bar (rectangular): 4.34 x 60 cm, with a 20 cm mitred apron.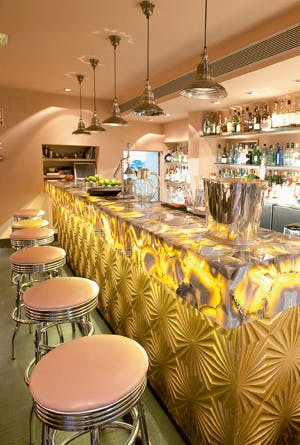 LE CABRERA, A HARMONIOUS MIX
In Madrid there is now a MIX, a place where you can have tapas at a bar that seats 14 people while sampling the best cocktails in Madrid.
For this gastrobar, whose focus had been on lighting and furniture, Luis Galliussi had the brilliant idea of putting the bars of the place in the limelight.
His great friend, Sergi Arola, gave him free rein to change the premises that had previously served Mexican food. It presented design challenges as it was quite small and was divided into two spaces.
The initial idea was to create a comfortable place where you would feel 'at home' with touches of contemporary art and a nod to things that would make customers recall pleasant memories and give them a feel-good sensation.
That was how Luis Galliussi came up with the idea of the Prexury-clad bars as the focal point of Le Cabrera that would also coexist in perfect harmony with the rest of the décor.
14 m2 de Prexury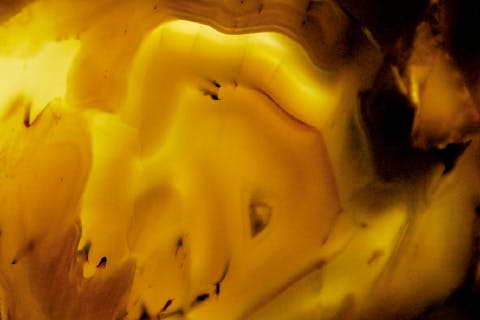 Looking like real agate, the 14 m2 of Wild Agate by Prexury catches the eye of everyone who enters the premises. Its main features are its size, the lighting, its hardness, strength and beauty, elements that make this product suitable for any type of space and cladding.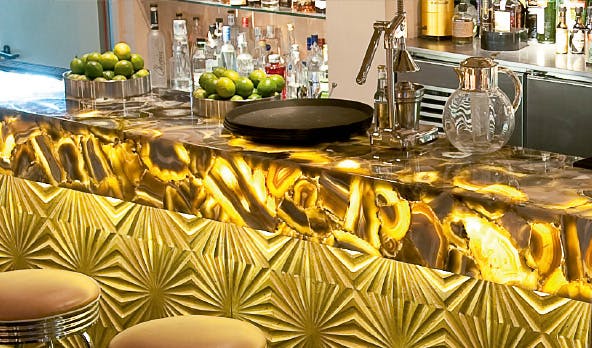 PREXURY, THE RIGHT CHOICE
Wild Agate was chosen from the twelve available Prexury colours. This semiprecious stone, made of Agate and Quartz, is characterised by its flamboyant bands of bright blue, hence the use of the word 'wild'. Its large embedded crystals are often used in jewellery-making and it is said that this gemstone stimulates general healing. It is also said that this mineral is a powerful energy giver and has revitalising properties; it also helps to increase sensory perception and concentration.