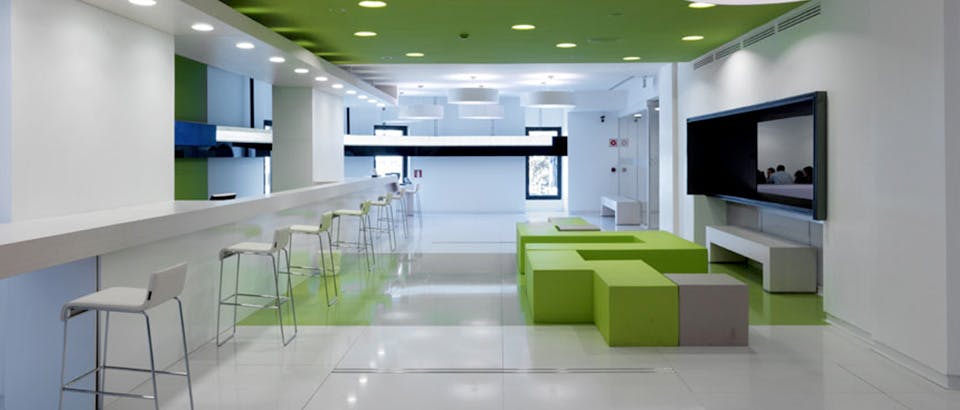 SILESTONE®: TELEFÓNICA FLAGSHIP STORE MADRID
Telefónica is one of the world's main Telecommunications companies and its leading position is thanks to its presence in over 24 countries and regions. Telefónica gets close to its customers, improves the quality of life for people, facilitates business development and contributes to the progress of the communities and countries where it operates, offering them innovative services centred on information and communications technology.
The values of this great company stem from innovation, from converting technology into something easy to understand and use; competitiveness, as it is not satisfied with past achievements but aspires to become a global leader in Telecommunications; openness, because it operates in a clear, transparent way and is accessible to everyone through dialogue; committed, which it proves to be when it follows through on its promises; and reliable, what it calls the result of dependability and trust.
TECHNICAL SPECIFICATIONS
PROJECT:
Remodelling of the Telefónica building
LOCATION:
Gran Vía 28, Madrid
THE TEAM:
Quanto Arquitectura
Miguel Ángel García Alonso (arquitecto director)
Kilika (interiorismo)
Luis Corbella (arquitecto de interior)
Jesús Manzano (socio director)
Brandimage (imagen) (imagen)
MATERIALS:
Silestone® y Scalea®
COLOUR:
Blanco Zeus
Verde Fun
Negro Latina
THICKNESS:
20 mm
DIMENSIONS:
Scalea®: 600 x 400 mm
Silestone® : 1200 mm x 1200 mm y 1200 mm x 600 mm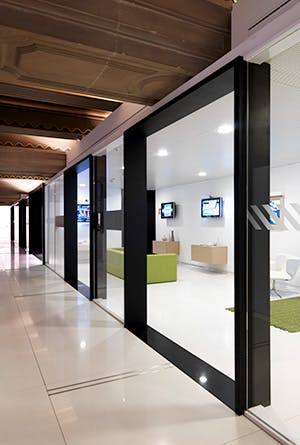 The chosen colour was Blanco Zeus, although a small amount of Verde Fun was used for 25 m2, to lend a touch of colour to the rest area.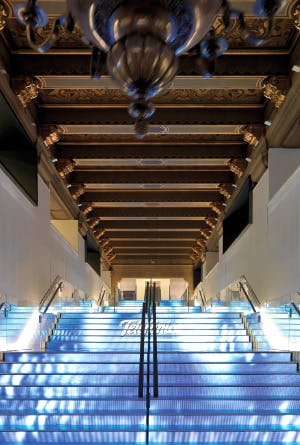 TELEFÓNICA, AN ICONIC BUILDING AND PART OF MADRID'S HISTORY
Since 1929, the Telefónica building in Madrid, located at 28 Gran Vía, has become one of the most iconic buildings in the city. Its construction – imitating New York's first skyscrapers – was begun in 1925, following the design of architects Lewis S. Weeks and Ignacio Cárdenas, and with the collaboration of Luís Feduchi.
The building was remodelled in 1992 and its original design, as well as its singular interiors, was respected. The ground and first floors went from being used for Customer Services to housing the company's art collections and the Telecommunications Museum respectively.
Telefónica is a leading, innovative company and is constantly renewing itself. The building has just undergone its latest change and is now a new, open, innovative, modern space, directly connecting the product to customers and users.
Telefónica has thus made this space its Flagship Store . They have reopened their space to give onto the street, making the building more permeable both with regard to its physical form as well as its renovation. It has also kept in mind any future and possible adjustments to the building should it need to adapt to new demands and incorporate new and every-changing technologies.
This building attracts all kinds of visitors and integrates the company with the most iconic street in Madrid, the Gran Vía, where the past and its history comes together with the present and its technology and growth.
This new project was awarded to the international multidisciplinary team led by Quanto Arquitectura, in collaboration with the American firm Brand and Image and the interior and industrial design experts Kilika, S.A. Together, they converted the former customer services centre into a large commercial, cultural and technological centre, combining the concepts of shop and exhibition.area.
"'We chose Silestone® because it is the material that can be best adapted to such an ambitious project'"
More than 1.500 m2 of Silestone®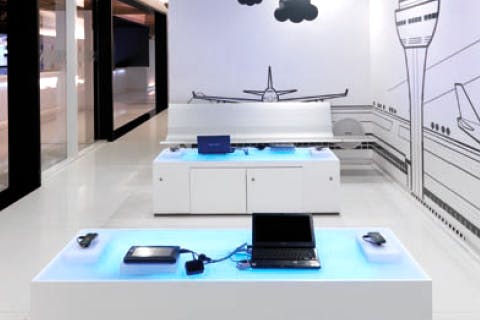 Silestone® was chosen for the flooring of this space for its unique ability to resist impact and force in its chosen format. For this project, it covers an area of more than de 1.500 m2.
Constructing the flooring
To construct the flooring it was necessary to use a raised floor system of a minimal height. The whole project required a non-domestic format with slabs measuring 1,200 x 1,200 mm for areas of high foot traffic and therefore were less raised. For the exhibition and demonstration areas, the size was reduced to 1,200 x 600 mm to facilitate accessibility. Tiles of 20 mm thickness were used for both areas.
Slabs were distributed throughout the surface area and had 200 mm diameter blind milled holes for connections.
Technical measures were adopted which are capable of achieving a minimum of 50% constant humidity to improve well-being and atmospheric comfort, especially in a city like Madrid with very low hygrometric levels which cause static electricity and the spread of viruses and bacteria. To this end, metal dividers have also been incorporated into some of the Silestone® slabs.